A few days before you start your eagerly anticipated holiday is just enough time to prepare your skin for showing off an enviable, flattering suntan. You've probably seen this advice given elsewhere before, but it's worth another read to ensure you have it at the forefront of your mind.
PREPARE YOURSELF FROM THE INSIDE
We recommend you start taking oral supplements that contain beta-carotenes and polypodium leucotomos a fortnight before exposing yourself to the sun. These supplements will work from the inside to prepare your skin progressively, making it more resistant to the damage caused by sun radiation, activating its natural defence mechanisms (sparking an increase in melanin production) and preventing burns, irritation and adverse reactions to the sun. Summesun Oral Tan Activator also has an antioxidant effect, thanks to vitamins C and E, which helps to halt premature skin photoageing and inhibits free radicals.
READY YOUR SKIN EXTERNALLY TOO
A good prior facial and body exfoliation is essential if you want to leave your skin primed for an even, glowing tan. The abrasive particles' mechanical actions helps you remove dead cells from the skin's surface and achieve soft, smooth, fine skin ready to bask in the sun's rays. MyCode Triphase Scrub, which has very fine particles, performs a deep cleanse and loosens dead cells without attacking the face's skin. Global Svelt Body Peeling Gel encourages the optimal renewal of dermal layers while respecting the body's hydrolipidic film.
CHOOSE THE SUNSCREEN THAT BEST SUITS YOUR NEEDS
When it comes to smart sunbathing, choosing the sun protection factor (SPF) most suited to your skin type and the hours of sun exposure you'll be facing is key. We always recommend high or very high SPF sunscreen (SPF30 or SPF50+) because we've destroyed the myth that a higher level of protection equates to less of a tan or more time being required to achieve a tan. By using a higher SPF, you'll be able to enjoy progressive, safer sun exposure, always in moderation of course. Summesun SPF50+ Sun Protection Facial Cream offers a highly protective barrier function and it also combines extremely powerful antioxidant active ingredients (DNA Protection). Summesun SPF50+ Sun Protection Corporal Mist doesn't leave white marks, thereby avoiding the "mask effect".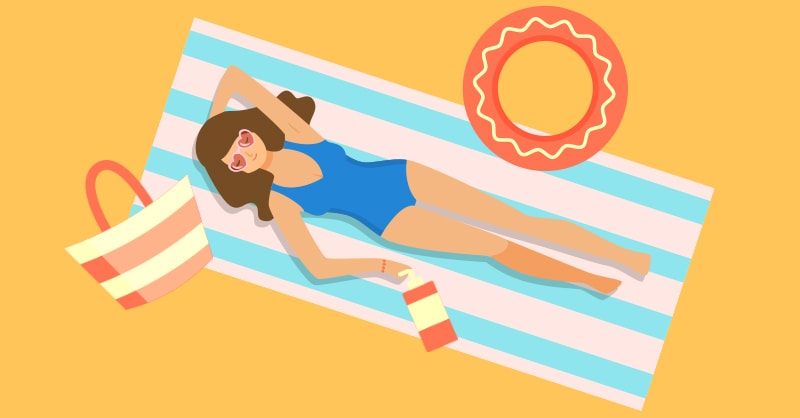 ALWAYS CARRY A SUNSCREEN STICK
When you're exposed to the sun, a sunscreen stick is your best friend regarding high protection of sensitive or localised areas of the body (upper lip, eyelids, ears, eye contour, scars, dark spots, etc.). It's also great for skin exposed to extreme sun conditions that requires intense, long-lasting protection (high mountains in winter, sports practice, etc.). Its small format and ease of application make a sunscreen stick easy to carry around with you at all times. Summesun SPF50+ Sun Protection Stick also has hydronourishing, regenerative properties.
PROLONG YOUR TAN TO INFINITY AND BEYOND
But what about after you finish sunbathing? You'll want your tan – which took so much effort to achieve – to last as long as possible. The secret is to continue taking care of your skin at home by using a good moisturising cream that prevents dryness and flaking of the skin. It should also be capable of accelerating cell regeneration processes in the layers damaged by UV rays. Summesun After Sun intensely moisturises and repairs, returning a sense of comfort after prolonged sun exposure.