It has tons of benefits. It's simple and safe, with no side effects. This non-invasive, painless technique achieves spectacular results for the skin, with no need to go under the knife. For this reason, it's a treatment that's growing in popularity in beauty centres and aesthetic medicine clinics.
WHAT IS AESTHETIC RADIOFREQUENCY?
Radiofrequency is an advanced technique that involves the controlled application of high-frequency alternating electromagnetic waves (micro-pulses) on the skin, leading to an increase in temperature in the deepest layers of the dermis (hyperthermia). The alternation between positive and negative in the electromagnetic field generates energy that makes the molecules inside the tissues rotate. This movement releases heat as an energy source that restarts the different processes of the cell metabolism at full capacity. This leads to the metabolism resuming functions that have been slowed by age.
This treatment heats from the inside out, reaching the deepest layers of the dermis, without damaging the epidermis. It's this sensation that clients will notice: a pleasant massage with an increase in heat. No pain at all.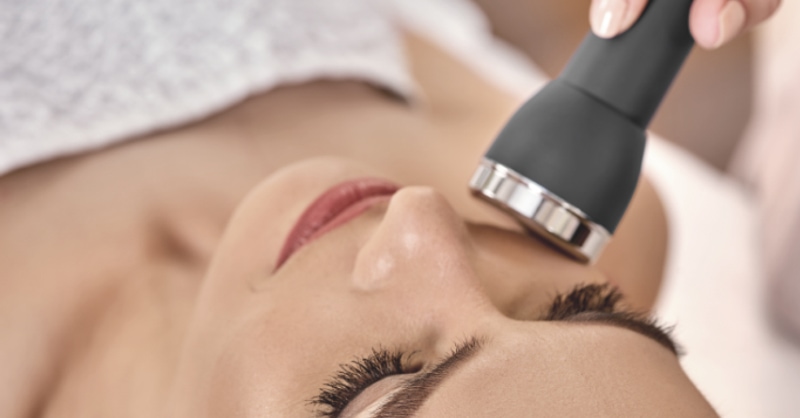 SELECT THE BEST OPTION FOR A TIGHTENING TREATMENT
With the help of this technology, we can create a comprehensive, professional treatment that corrects sagging and tightens the face's supporting tissues. This is the best choice you can make if you're looking to achieve a striking "lifting effect". Over time, collagen and elastin fibres are degraded and lose their capacity to offer the tissues firmness and elasticity. This leads to "drooping" and a loss of definition and muscle tone. In addition, with age we accumulate localised fat and retain fluids in the jaw area. In this case, there is an increase in volume and a "cushioning" of the skin (the feared jowl or double chin). Radiofrequency treatments are designed to counteract these two substantial aesthetic issues, enhancing results progressively. The oval shape of the face is redefined with radiofrequency.
YOU'LL START TO NOTICE SPECTACULAR RESULTS FROM YOUR FIRST SESSIONS AT THE SALON
Today we're going to tell you the benefits of facial radiofrequency treatments. And there are lots of them. Facial protocols that combine the application of radiofrequency in their sessions are the perfect solution for skin that requires general rejuvenation. At each session – and very few are required – you'll see your skin improve progressively. This form of treatment is becoming the best alternative to surgery.
Shrinks damaged collagen fibres to make the skin tighter and firmer, causing it to stretch.
Stimulates fibroblast activity to increase collagen and elastic fibre production.
Sparks the creation of heat shock proteins (HSP 47) that are necessary to correctly restructure new collagen in the form of a triple helix.
Reduces wrinkles and expression lines, achieving a visible smoothing of the face that is immediate and long-lasting.
Treats scars and marks caused by acne.
Blends in skin spots that are the result of hyperpigmentation.
Oxygenates skin cells, activating blood circulation in the area and making the face radiant once again.
Helps to remove fat deposits located in the chin and jaw (double chin).
Suppresses toxins and reduces excess fluids, thanks to its lymphatic draining action.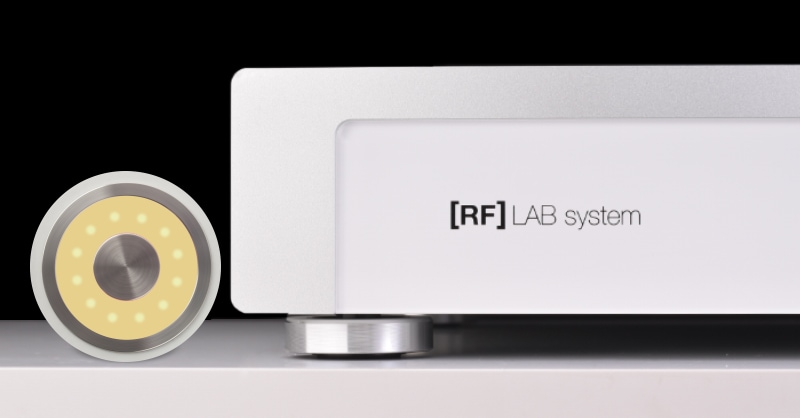 The [RF] LAB SYSTEM by Summecosmetics is a device designed to perform aesthetic medicine treatments by applying bipolar radiofrequency combined in synergy with phototherapy at 590nm.
Its aim is to efficiently, safely and painlessly perform facial, hair and body treatments given that it includes three different application electrodes for each area. Additionally, it incorporates technical characteristics that allow it to be fully customised for each treatment type.
Advantages of the bipolar radiofrequency system by Summecosmetics
The bipolar application allows us to perform more intense treatments homogeneously and safely, with quicker and better results than those offered by monopolar equipment. Thanks to its separate electrodes, we can control the path of the electromagnetic waves applied, thereby preventing energy dispersal. With the [RF] LAB SYSTEM, we focus the energy's intensity and depth on the area to be treated. Discover all the possibilities offered by a great work tool.